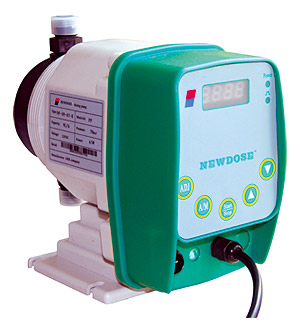 DP type electrical diaphragm metering pump
Anticorrosive plastic casing
PTFE diaphragm
Protection class: IP55
Pump head: PP, PVC, FTFE, SS316
Suction and delivery valves: with two balls each one
Manual control the stroke frequency from 10-100%, LCD displays the normal frequency (at running or stop).
the start and stop point can be changed and the proportion rate and direction can be changed easily.
Auto control the stroke frequency by the impulse signal from 0-100%. Can be set 1*N or N/1. (1*N: receive one impulse, the pump runs N times. N/1: receive N impulse, the pump runs once. The scope of N: 1-999.) LED displays the number of N.
Specification of the DP pump
Type
Flow
capacity: l/H
Max working
pressure:Bar
N/M
Suction height
of the water:meter
Net weight:KG
Power
consumption:W

Standard
voltage
DP-02-07-LM
2
7
120
2

3.5

30

220V 50HZ

DP-02-16-X
2
16
120
2
3.5
65
220V 50HZ
DP-03-07-LM
3
7
120
2
3.5
30
220V 50HZ
DP-06-05-LM
6
5
120
2
3.5
30
220V 50HZ
DP-06-07-X
6
7
120
2
3.5
65
220V 50HZ
DP-09-03-LM
9
2
120
2
3.5
30
220V 50HZ
DP-09-07-X
9
7
120
2
3.5
65
220V 50HZ
DP-12-07-X
12
7
120
2
3.5
65
220V 50HZ
DP-15-03-X
15
3
120
2
3.5
65
220V 50HZ
DP-20-03-X
20
3
160
2
3.5
65
220V 50HZ
DP-30-03-X
30
3
160
2
4
65
220V 50HZ
DP-50-05-X
50
5
240
2
4
65
220V 50HZ